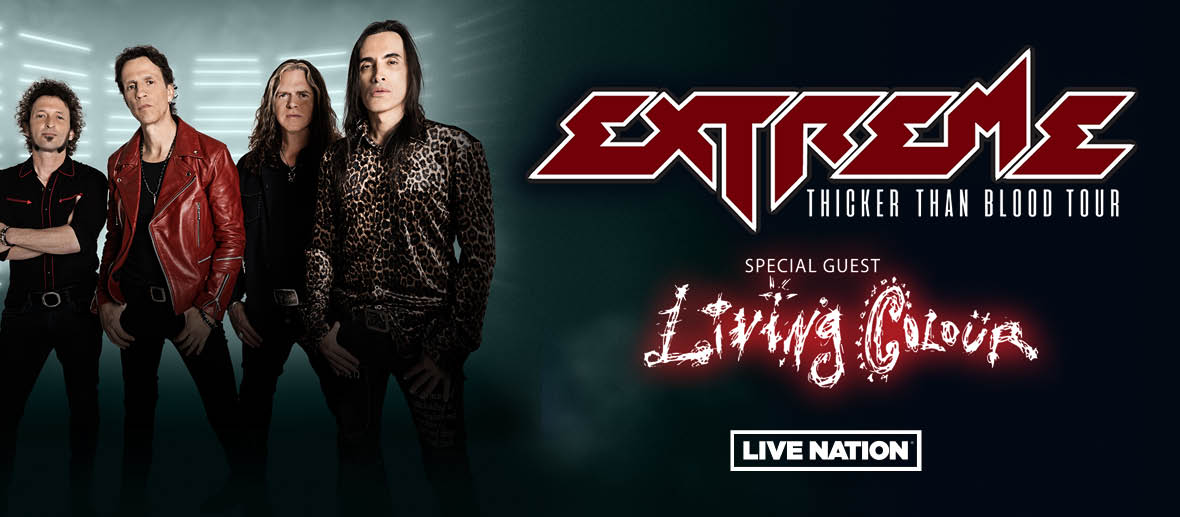 Florida Theatre & Live Nation
Extreme with Living Colour
Florida Theatre & Live Nation
Extreme with Living Colour
Date

March

10

,

2024

Event Starts

7:00 PM

Doors Open

6:00 PM

Ticket Prices

$34.50-$99.50

On Sale

On Sale Now
Event Details
Extreme Formed in 1985, the group's quiet grind resulted in the release of the self-titled Extreme in 1989. Among many highlights, "Play With Me" not only graced the soundtrack of Bill & Ted's Excellent Adventure, but also the season 4 opener of "Stranger Things." Meanwhile, Extreme II: Pornograffitti bowed in the Top 10 of the Billboard 200 and eventually picked up a double-platinum certification. Of course, it notably spawned "Hole Hearted" (#4 on the Billboard "Hot 100") and the generational smash "More Than Words." The latter soared to #1 on the "Hot 100" and remains one of the most popular rock songs of all-time with over half-a-billion streams and 633 million YouTube views and counting. It appeared in the blockbuster comedy Forgetting Sarah Marshall, while Jimmy Fallon and Jack Black covered it (and reimagined the iconic video) on "The Tonight Show Starring Jimmy Fallon." Other covers ranged from The Piano Guys To Frankie J. In its wake, the gold-certified III Sides To Every Story saw them return to the Top 10 on the Billboard 200. Following Waiting for the Punchline (1995) and Saudades de Rock (2008), the musicians enraptured the masses on tour. Along the way, everyone from Tom Morello of Rage Against The Machine and Brian May of Queen to John Mayer publicly sung their praises. Plus, they played to a sold-out crowd at Fenway Park opening for Aerosmith. On top of that, Gary was lead singer for Van Halen (Van Halen III) and has recorded and performed with Joe Perry, while Nuno has recorded and performed with Steven Tyler and Rihanna.
Living Colour is an American rock[4] band from New York City, formed in 1984. The band currently consists of guitarist Vernon Reid, lead vocalist Corey Glover, drummer Will Calhoun and bassist Doug Wimbish (who replaced Muzz Skillings in 1992). Stylistically, their music is a creative fusion influenced by heavy metal, funk, jazz, hip hop, punk, and alternative rock. The band's lyrics range from the personal to the political, including social commentary on racism in the United States.
Living Colour has released six studio albums so far. The band rose to fame with their debut album Vivid in 1988.[5] Although they scored several hits, Living Colour is best known for their signature song "Cult of Personality", which won a Grammy Award for Best Hard Rock Performance in 1990 and has been consistently used as the entrance theme for professional wrestler CM Punk since 2011.[6] They were also named Best New Artist at the 1989 MTV Video Music Awards and won their second Grammy Award for their follow-up album Time's Up (1990). Their third album, Stain (1993), was also well received by music critics. After disbanding in 1995,[5] Living Colour reunited in late 2000, and has released three more studio albums since then: Collideøscope (2003), The Chair in the Doorway (2009) and Shade (2017). The band has been in the process of working on new material for the follow-up to Shade.