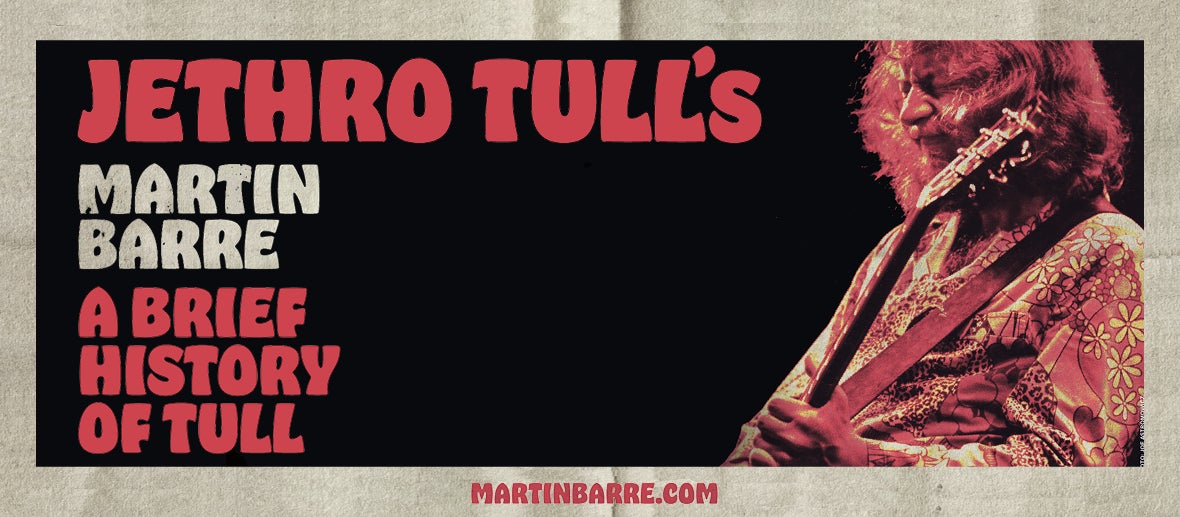 Florida Theatre & Elko Concerts
Jethro Tull's Martin Barre
Florida Theatre & Elko Concerts
Jethro Tull's Martin Barre
Date

November

2

,

2023

Event Starts

8:00 PM

Doors Open

7:00 PM

Ticket Prices

$59.75

On Sale

On Sale Now
Event Details
At the center of Jethro Tull's unique sound is guitarist Martin Barre, renowned for his formidable mastery of historic riffs, power chords and soaring melodic solos. Martin Barre celebrates the musical journey of Jethro Tull throughout the decades at his new show A Brief History of Tull. The show will feature a special visual presentation that, together with the music, highlights the 50 years of Jethro Tull musical career. Classic Tull hits played throughout the interactive performance include songs from legendary albums such as thick as a brick, aqualung, stand up, songs from the wood, a passion play, heavy horses and many more…
He will be bringing a spectacular show with his touring band, featuring the iconic voice of Dan Crisp on lead vocals, Alan Thomson on bass and Darby Todd on drums. Join us as Martin takes you back on the formidable journey of Jethro Tull – it will be a show you will not want to miss!
Martin Barre was Jethro Tull's guitarist for over 43 years. His sound and playing was a major factor in their success. Album sales have exceeded 60 million units and they continue to be played worldwide, representing an important part of classic rock history.
Martin's guitar playing has earned him a high level of respect and recognition. His solos were voted 25th best solo ever in the USA and 20th best solo ever in the UK for his playing on aqualung. His playing on the album crest of a knave earned him a Grammy award in 1989. As well as numerous Jethro Tull albums, Martin has worked with many other artists including Paul McCartney, Phil Collins, Gary Moore, Joe Bonamassa and Chris Thompson and has shared the stage with such legends as Jimi Hendrix, Fleetwood Mac, Pink Floyd, and Led Zeppelin.
ACCESSIBLE PARKING
The Florida Theatre does not have its own public parking. However, there are accessible street parking spaces in the neighborhood. There are several parking garages within two blocks of the theatre, and each provides accessible parking. Passengers can be dropped off in front of the theatre on Forsyth Street.
ACCESSIBLE TICKET SALES
The Box Office can receive phone calls relayed by a TTY system operator. The Box Office phone number is 904.355.2787.
SERVICE ANIMALS / GUIDE DOGS
The Florida Theatre welcomes service animals with their owners. A service animal is a dog or miniature pony trained to perform tasks for the benefit of an individual with a disability. In accordance with the law, you will not be asked about your own disability, and you will not be asked to provide documentation of your service animal's training, but you may be asked whether an animal is a trained service animal and what tasks the animal has been trained to perform. The behavior of a service animal must be under the control of its owner, and the service animal should not pose a direct threat to the health or safety of others. Owners who are unable to take effective action to control an out-of-control service animal may be asked to remove the animal from the premises. When purchasing a ticket, please let us know if your service animal will be able to rest at your feet during a performance or if additional provisions are needed.
ACCESSIBLE SEATING
Accessible seating may be purchased from the Florida Theatre Box Office at 904.355.2787 or floridatheatre.com. Our ticketing staff is intimately knowledgeable about the historic Florida Theatre and is ready to assist you via phone or email (boxoffice@floridatheatre.com). When ordering tickets, please provide as much information as possible so that we may properly seat you in a location that best suits your needs. Due to the architecture of the historic Florida Theatre building, the balcony and loge are inaccessible. All accessible seating is provided on the orchestra level, with a clear path (no stairs) from the front doors on Forsyth Street to all accessible seating locations. Accessible seating options are available at all price levels. There are two types of accessible seating options. 1) Spaces designated for a person using a mobility device such as a wheelchair or scooter that has no physical fixed or loose seat, and 2) Swing-arm aisle seats that have a physical fixed seat. Florida Theatre staff and volunteers are available at all events to assist patrons with special needs from the street entrance to their fixed seats or wheelchair-accessible locations. However, they are not able to assist patrons in transferring from a mobility device to a fixed seat or to provide personal attendant services.
ACCESSIBLE RESTROOMS
There is an accessible restroom located near the Forsyth Street Entry Lobby. Any staff member or volunteer can point you in the right direction.
INTERPRETIVE SERVICES
The Florida Theatre will arrange for American Sign Language interpretive services, even for a concert. Please make such requests at least two (2) weeks prior to the event by contacting the Box Office at 904.355.2787 or boxoffice@floridatheatre.com. The provision of interpretive services is based on the availability of interpreters, but we will make every effort to accommodate each request. There is no additional charge for requesting interpretive services.
ASSISTIVE LISTENING SYSTEM
An Assistive Listening System is available for the hearing impaired. It is a radio frequency system. Ear speakers or neck loops that can interface with telecoil-equipped hearing aids or cochlear implants are available, or users can plug in their own ear speakers. Patrons using the Assistive Listening System can sit anywhere in the theatre. You can reserve an Assistive Listening System device in advance from the Box Office at 904.355.2787 or boxoffice@floridatheatre.com, or see the House Manager or an Usher for assistance on arrival. There is no additional charge for using the Assistive Listening System.
ALTERNATIVE FORMAT MATERIALS
When printed programs are provided by the Florida Theatre, large print programs are available upon request. There is no additional charge for requesting a large print program.