Centennial Campaign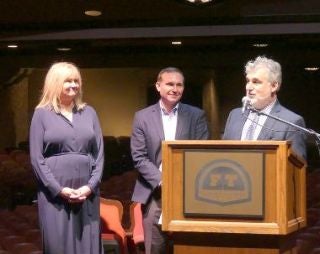 The historic Florida Theatre opened in 1927 and was restored and reopened in 1983. The Theatre's warm and authentic intimacy has made it a favorite with performers and audiences. Over 36 years, millions of people have enjoyed thousands of live performances, making the Florida Theatre one of the Top 5 most attended theatres in the country, with up to 2,000 seats (according to Pollstar magazine), and the most attended venue of any kind up to 2,000 seats in the State of Florida for the last two years (according to VenuesNow magazine).
It has, however, been over 25 years since the last capital improvements in 1994, and as the building approaches its 100th anniversary, its physical assets are wearing out. The Centennial Campaign proposes to make these necessary improvements in time for the Florida Theatre's 100th anniversary on April 8, 2027.
The intended result of these projects is to improve the artist and audience experience, increase the organization's ability to generate revenue, and reduce the organization's daily expenses.
THE SPECIFIC PROJECTS THAT WILL ACCOMPLISH THESE GOALS:
A new sound system, reducing the show-by-show expenditure of renting a system.
Upgrades to the stage lighting system, including new controllers and moving lights, reduce the per-show expenditure of renting equipment and enhance the theatre's production to the audience.
A new digital projection system, replacing the 1950s vintage film projectors currently in the projection booth, reducing the per-show expense of renting equipment to show movies in a modern format.
Replacing the theatre's 1900 seats with new but historically appropriate seats, enhancing the customer experience.
Restroom improvements to better use the physical space and enhance the customer experience.
Expanded lobby space for concessions and receptions.
An artist hospitality lounge to make the theatre a more attractive venue for the artists.
Improved accessibility for the differently abled.
Restoration of the theatre's historic marquee and sign boards.
Restoration of the plaster and paint of the auditorium and lobbies.
In addition to potential sources of income such as grants from the Florida Division of Cultural Affairs and the Florida Division of Historical Resources, and in addition to a $4.50 restoration fee on all ticket sales, the City of Jacksonville has committed to a $1 million per year matching grant for five years, so every gift to the Centennial Campaign is matched and doubled.
Showing your support of the Centennial Campaign will make the Florida Theatre an even better place for the artists and audiences and shows that you care about placing the arts, culture, entertainment, and historic preservation at the center of the civic life in Jacksonville.
View a list of our current Centennial Campaign donors.
For more information about how you can support the Centennial Campaign, contact the Florida Theatre's President, Numa Saisselin, at 904-562-5989, or the Florida Theatre's Development Director, Michelle Adams, at 904-562-5973.